Our wedding and event bar personalised menus have just got even bigger. So big we're having to move warehouses to accommodate all of our extra equipment and new 2017 bar (pictures to come).
So what's included in your standard bar menu this year?
You pick your draft lager option and any Abbeydale ale to be served on tap
Our bottle fridge is packed full of wine, prosecco and as standard.. Peroni, Corona, Willy's Cider, Fruit Ciders & Bulmers.
Our new back bars will be packed with over 35 spirit options including 8 different gins and 5 different vodkas.
Your personalised specials menu will have up to 7 of your favourite personalised cocktails for your guests to enjoy.
We license your venue and serve your personalised menu from our hand built oak bars throughout the duration of the service you require.
Your Specials Menu
The specials menu has been a massive hit throughout the year with our Brides & Grooms to be taking great delight in the ability to pick their favourite cocktails and rename them all if they wish.
Our most popular cocktails this year are as follows…
Sweet On You
Double shot of Smirnoff Vodka muddled with fresh strawberries, mint, lime and strawberry puree. Served over ice with cranberry juice and lime wedge.
Passionfruit Bellini
Our most popular Bellini flavour. Passionfruit puree mixed with Chambord and Italian Prosecco.
English Garden
A very English fizz cocktail. Elderflower cordial and gin is combined in a flute with mint. Prosecco is then poured slowly and stirred into the flute.
The Bramble
Gin is again a very popular choice this year. Bombay Dry Gin mixed with lemon juice, sugar and Creme De Mure. Served over ice and garnished with blackberries.
The Ginger Captain
Spiced rum again is a very popular option this year. Morgan's Spiced rum mixed with lime, ginger beer and served over ice with a lime wedge.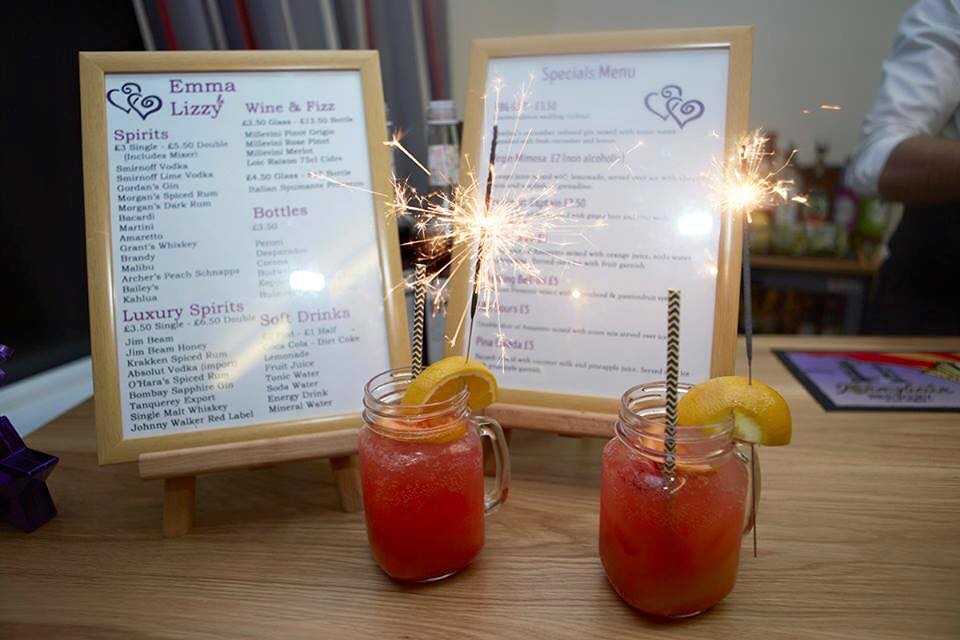 Haven't booked your wedding yet? Don't worry we still have some availability for 2017 and space in 2018. Simply fill in our enquiry form below and we'll get back to you with more information on our personalised bar hire packages.